Best of Both Worlds
By pulling together Old and New, the long-standing partnership of Ernst Loosen and Bob Bertheau has been effortlessly maintained through a dedication to continual growth.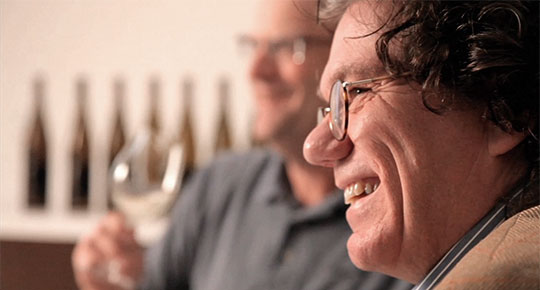 At the blending table, Ernst and Bob test dozens of small lots through sensory exploration, where each reflects a slight difference in character, depending on where the fruit was grown. Ernst travels from Germany every winter for the blending, so the two winemakers can work side-by-side in their careful selection process.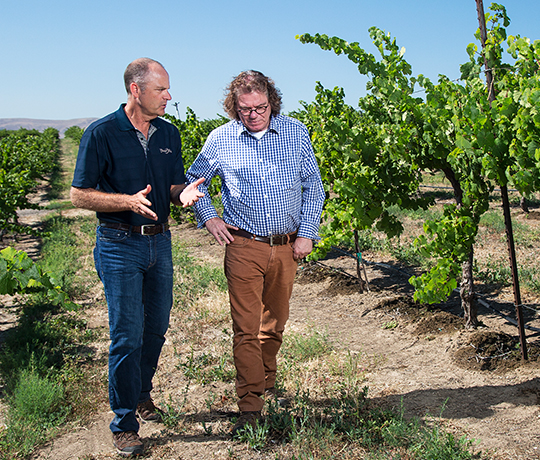 Winemaking Philosophies
With a philosophy that balances a global view, Ernst and Bob make wines that stand out as truly distinctive and world-class. Their outlook allows them to maintain respect for tradition while taking a modern approach.

Ernst Loosen
Ernst Loosen was born into a great tradition of German winemaking. The Dr. Loosen estate on the Mosel River has been in his family for more than 200 years. During the last two decades, Ernst has traveled the world promoting the fine quality and long tradition of Riesling. With his modern world view and his traditional approach to winemaking, Ernst strives to produce wines that unmistakably express the character of Riesling and of the vineyards where they are grown.
"Washington state vineyards have the depth, balance and bright fruit character to craft an exceptional Riesling."
Download Full Biography

Bob Bertheau
Bob Bertheau joined Chateau Ste. Michelle in 2003 as its winemaker of white wines, after 16 years of winemaking in Sonoma County, California. Bob was promoted to Chateau Ste. Michelle head winemaker a year later. Over the last decade, Bob has elevated Chateau Ste. Michelle's Riesling portfolio, crafting some of the most popular and acclaimed American Rieslings and introducing thousands of wine consumers to the great attributes of the noble white grape.
"We have found our 'Eroica style', striving for beautiful, bright fruit with crisp acidity and enhanced minerality."
Download Full Biography